Beer #202 Afterburner IPA / Flyers Restaurant and Brewery, Oak Harbor, WA
It's Friday, and we're getting into a long holiday weekend courtesy of a few more vacation days and the Fourth of July. Off to visit with some friends tonight, so it's straight business this evening. Tonight's beer came on draft in Seattle - the Afterburner IPA from
Flyers
. It pours a copper color with a thin head, and you immediately get a good amount of hop bitterness up front. It also has flavors of malt, with a bit of citrus thrown in, and a good dry finish.
The picture I took of this beer is downright nonsense. Dark bar + phone = awful photos. So, here's a picture of the Wright Brothers doing the damn thing.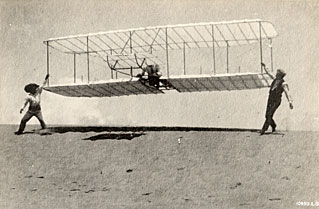 Gonna fly now......
The brewery (and restaurant) website doesn't have much info on who they are, but when you click on a link to learn more about the beer, you get a cool propeller noise. So, you have that going for you, which is nice. They seem to be big fans of airplanes, if you're into that sort of thing.
Thing to Think About Today:
Seeing how I put
Top Gun
in this space during our visit to San Diego, I needed to think of another way to incorporate the theme into my final thought. So, today is Friday, and that means it's happy hour somewhere. Let's stop and think back to possibly the most popular
G-Man
happy hour song from my college days. Sugar Ray, it's time to
Fly!
What do you think Super Cat is doing these days? Telemarketing? I might need him for a concert I'm planning in my backyard, so if anyone has contact info, please let me know.